GERARD KLEIJN GROUP
Dutch trumpeter Gerard Kleijn's band is a mixed batch. That results in an energetic, innovating melting-pot of sound and colourful phrases.The group has released four Cd's so far: Big Moves (with Fay Claassen), Love Quotes and New World (both with the Israelian guitarplayer David Golek) and Le Flirt de Satie with Franck Amsallem. The cd's where all well received in various music publications all over the world. The swinging, dreamlike interpretations of Kleijn himself are praised in particular. The group played all over Europe at Jazz clubs and festivals. The group has played at the North Sea Jazzfestival (Netherlands), The Villa Cellimonata Jazzfestival (Italy), The Brianza Open Festival (Italy), The Concertgebouw (Amsterdam), Bimhuis (Amsterdam),The Birds Eye (Switzerland),The Music Village (Brussels), Amici della Music (Italy),and Jazzstudio (Nurnberg) among many other venues.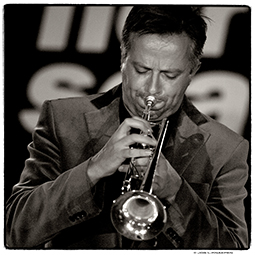 Gerard Kleijn Group@the North Sea Jazz Festival 2004 –  Click here for a short  video

CD's
1998 – Big Moves feat. Fay Claassen
2001 – Love Quotes
2003 – New World
2007 – Le Flirt de Satie
Musicians (1997-2007):
RJ Vermeulen, Örjan Graafman, Franck Amsallem – piano
Rico de Jeer, Paul Berner – double bass
David Golek – guitar
Joost Kesselaar – drums
Le Flirt de Satie
The Dutch trumpet player Gerard Kleijn and his group are flirting – flirting in earnest, and quite remarkably, with the music of Erik Satie(1866-1925). For their  program the Gerard Kleijn Group has made an intense study of the life and works of this French composer, which has inspired them to create a unique and captivating jazz interpretation of his music. Erik Satie had his own sound, which he created largely outside the rules of his musical contemporaries. And he was at the top of his fame at the time when jazz was being born. This program unites the music of Satie with jazz, providing a fascinating look at the miraculous and peculiar music of Erik Satie. For example, did you know that Satie is the composer of the first European ragtime piece, or that for years he earned his living as a bar pianist? In March 2006 Kleijn's band recorded a live CD of this project at The Bird's Eye in Basel (Switzerland). 
Reviews Le Flirt de Satie

This group takes a downtown New York-approach: loose, funky and not too careful. In this way they avoid the danger of an overly 'tasteful' approach to 'jazz-meets-classical'. And yet it all makes sense. Jazzpodium/Dutch Press/november 2006

The result of this fusion, including Kleijn's own contribution 'Flow', is absolutely fascinating. This is due to the experience and creativity of these four musicians, who have delved into this unusual material with total devotion; it has led to listenable and swinging music. Jazzflits/Dutch Press/november 2006

The Gerard Kleijn Group's recent album Le Flirt de Satie is a statement that not only flirts with Satie's works but permeates of influences from around the world in creating a contemporary soundscape of jazz improvisations and exhilarating collaborations free of inhibitions.  The music is instinctually made from a love of jazz and to indulge audiences.Jazzreview – USA – 2007

Very well played, and repeated listening reveals a fair amount of subtlety in group approach.
Cadance – USA – 2007

Trumpeter Gerard Kleijn and his band have made swinging jazz arrangements based on nine compositions by Satie. The result is less far-fetched than you might expect. On the contrary: replace the silences which Satie left in his compositions with, for example, a swinging beat and you hear: jazz! Parool/Dutch Press/November 2006

Reviews New World
Jazz Review/USA/june 2004
European jazz has had its own voice for years and Gerard Kleijn's group is a fine example!


Cadance/USA/april 2004
Cadance spoke about the trumpeters distintive voice in an earlier review(2003)of Kleijn's 2002 "Love Quotes", and he continues to impress here. To his credit, he has kept his band together, and the coheseviness of the group shows, as there are consistently excellent contributions from each of the band members. It is Kleijn, thoug, who is the leader and dominant voice, and when it is all over, you cannot but sense that is he trumpeter worth getting to know.

Music Maker/december 2003
Kleijn understands the art of improvising on his instrument, within a structure that is not too pinched, but on the other hand is not so loose that you as listener lose your way. That makes this a production of the highest class. *****(Masterful.

Heaven – Belgium/Netherlands/december 2003
New World from the Gerard Kleijn Group is a real hit. Because of all the (well deserved) attention that Eric Vloeimans gets, it sometimes seems as if we don't have any other top-class trumpeters here in the Netherlands, but with his new album Kleijn disproves this assumption.He has a beautiful, introverted tone, plays strong improvisations that tell a story, and writes fascinating tunes. He is accompanied by a first-rate band that stands with one foot in the tradition but with the other firmly in the here and now. A group to keep your eye on.

Utrechts Nieuwsblad- Netherlands/Novemer 2003
On New World, the magnificent new CD from the Gerard Kleijn Group, you can hear what he has been striving for. This is a real band; not a soloist-with-backing-band, but a flexible group of musicians who give each other plenty of room to move.

Cees Schrama – Tros Sesjun – Netherlands/November 2003
There are a lot of trumpet players, but if you play like Gerard Kleijn then you're one of the few!

Noordhollands Dagblad/Netherlands/Oktober 2003
Jazz with style from GK. GK displays calm and self confidence.
As a composer and as a soloist, GK has made a big step forwards. The band leader and principal composer GL plays his trumpet with striking conviction, pure and accurate, with serenity and sensitivity. The ballads Samsara and Amor a Primera Vista are just two examples from the nine outstanding pieces that make up more than 60 captivating minutes. No quasi-heavy, complicated forms and pointless virtuosity: NW shines through clarity and is brimming with melodies, often played in layers by trumpet, guitar, and piano, with real staying power.

De Telegraaf/Netherlands/oktober 2003
He has made 3 gorgeous CD's full of music. -NW: a marvelous CD full of dreamy and swinging jazz with here and there a touch of free-bag.

Haarlems Dagblad/Gooi- en Eemlander Oktober 2003
GK's accomplishments are especially significant because he has built a band with which he is creating more and more international "buzz". -NW arrives close on the heels of the well-received album LQ, but nevertheless the teamwork in the band is even tighter and more balanced. The way K lays out the colorful phrases in his virtuoso-melodic solos is so secure that the listener can just lean back and relax.

Reviews Love Quotes


Jazzreview.com/USA/2002
What a wide range of talent is the Gerard Kleijn Group, full of vim and vigor, and it is a highly expressive jazz group. Their music is innovative and entertaining. Gerard Kleijn has a clear and mellow voice in his trumpet that is relaxing to listen to, and his fingerings open up on a straight-forward style of approach. He is one of the Netherlands finest trumpet performers and composers. Orjan Graafmans in topnotch at the piano. There are 12 songs on the CD collection. The total playing time is 70:18 minutes. Some of the songs are Cole Porter's "So in Love," the intimate "Love Is" composed by Gerard Kleijn, Billy Strayhorn's "A Flower is a Lovesome Thing," "Madam Rosa," Jules Styne's "I Fall in Love Too Easily," among other fine selections. This is the kind of trumpet music that grows on you with the passage of time, and I found each time I listened to it there was a new impression or jazz motif that made itself known to my mind. Gerard Kleijn gives performances that are sensitive, imaginative, and innovative. LOVEQUOTES is highly recommended for its clarity of vision, enjoyment, and jazz entertainment. A fine collect of songs for the jazz listening audience.


Cadence – USA – David Dupont – januari 2003
The music on this recording is informed but not imprisoned by it's influences.The leader clearly has learned much from select models, and has also moved well beyond mimicry and towards achieving a distinctive voice!
When Gerard Kleijn lays into a ballad, as on 'love is' , I can't help but hear Freddie Hubbard in the 1970's. Think 'First Light'. But the Dutch Trumpet player hasn't forgotten where those romantic sounds have their roots. He merges them with hardbop adventurousness, creating a fetching session. He interjects within the set what he calls 'impromptus', free form introductions. Alas, these seem gratuitous, especially 'impromptu 1(reprise)', a scratchy recorded bit of concersation that introduces a bit of hip hop easthetics to the proceedings. Quitte odd considering it leads into the most retro song on the date 'number 10', a boogaloo beat number no less, complete with electric piano. The wonder is that Kleijn and troops(especially pianist Orjan Graafmans)manage to instill some freshness in the number. Indeed Graafmans is a star througout, evoking just a touch of Hancock and turning in a reviting solo, again on electric piano, on 'cupid's arrows'. THis up tempo track(as does most of this date)is sure to hit it's mark-the hearts and ears of fans who loved that 1970's conjunction of fusion and romance.


"In summary, this is an album with variety and 70 minutes of excellent jazz."
Globes/Gil Gibli/Israël – juni 2002

'This new cd of the Gerard Kleijn Group is a dignified successor of the in 1998 released debut cd "Big Moves" The sound of this trumpet player is relaxed and modest, but his play is elated, which gives the music enough tension and because of that it sounds logical and colourfull. An excellent cd.'
Rotterdams Dagblad/Netherlands – july 2002

"A solid jazz mainstream and well done with a very interesting personal key of the standards such " So In Love " from Cole Porter. Very beautiful compositions from this Dutch trumpet player and of the guitarist who accompanies him on this recording David Golek."
Louis Brunet-Radio Quebec/Canada – juni 2002


An above average jazz record!
NRC/Netherlands


A trumpet player of stature, with a beautiful tone and loads of ideas.
Jazz/Netherlands


I really enjoyed it immensely. Very thoughtful and well prepared indeed.
The legendary trumpet player Benny Bailey/USA

Beautiful and sensitive as well as rhythmically interesting.
Audio Magazine/Netherlands


Gerard Kleijn was Nominated for the Andersen Jazzaward 2002
Reviews Big Moves


"Gerard Kleijn is responsible for the highlight of the album, a very special and intimite version of"Round About Midnight".
Bert Vuijsje – Haagse Post 1998


And trumpettist Kleijn himself ?
He has supplied some excellend compositions, for instance the compact Neuróticos Anonimos that he sells us with flair. A track that could do well on our only jazz-station.
Coen de Jonge– Jazz nu – Dutch Jazzmagazine – 1998

"Big Moves is a very tight-knit band with wonderful soloists and a great future ….." "A fully balanced album…" "A beautiful product…."
Han Reiziger (VPRO – Dutch television)- Album presentation – April 1998